When you've successfully tested your connections to Sage Accounts and Autotask you can now start to process your invoices.
To download your Autotask invoices click the Download Invoices button. You will be presented with a dialog similar to that below: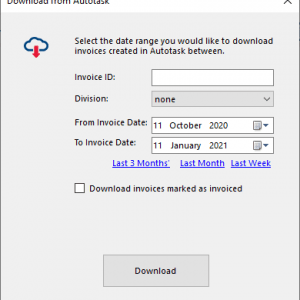 Choose the date range you would like to download invoices between (the date applies to the date the invoice was created in Autotask). AT2Sage will download every invoice created between these dates that have not already been invoiced by AT2Sage – providing you allowed AT2Sage to update Autotask with the invoices that have been sent to Sage (more on this later).
Alternatively if you wish to download a specific invoice you may enter the Autotask Invoice ID into the Invoice ID box, note this is not the Invoice Number which may be different to the Autotask Invoice ID.
To download invoices that have already been marked as invoiced simply tick the 'Download invoices marked as invoiced' tick box.
Once the invoices have been downloaded from Autotask they should appear in a list in the main window, like this: