When you've successfully tested your connections to Sage Accounts and Autotask you can now start to process your purchase orders.
To download your Autotask purchase orders click the Download PO's button. You will be presented with a dialog similar to that below: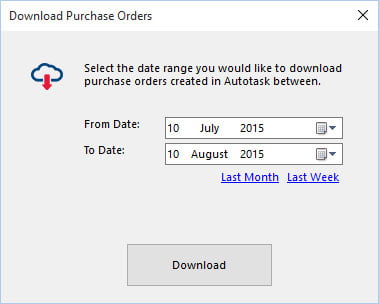 Choose the date range you would like to download purchase orders between (the date applies to the date the purchase order was created in Autotask). AT2Sage will download every purchase order created between these dates.
Once the invoices have been downloaded from Autotask they should appear in a list in the main window ready for you to Send to Sage.